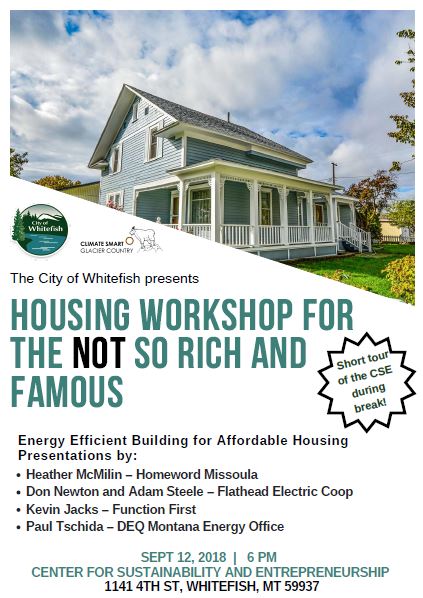 A housing workshop for the NOT so rich and famous. Sponsored by Climate Smart Glacier Country, City of Whitefish, and Whitefish Schools' Center for Sustainability and Entrepreneurship.
Affordable housing is usually defined by rent cost or home purchase price, but often overlooked is the cost of operating a comfortable, healthy residence. And the big operational cost is energy use. A home that costs nearly as much to heat as it does to rent is probably not affordable. And it definitely is not climate smart.
This free workshop will focus on how to build energy efficient, affordable homes and how to retrofit existing homes to be more efficient.
Presenters include:
– Heather McMilin, Homeword Missoula
– Don Newton and Adam Steele – Flathead Electric Cooperative
– Kevin Jacks – Function First Building Performance Contracting
– Paul Tschida – DEQ Montana Energy Office
For a video summary of the event, see below.