Whitefish Climate Action Plan
The Whitefish City Council established a Climate Action Planning Committee on December 5, 2016. A committee of 10 people was appointed by Mayor John Muhlfeld in January.
The City Council resolution directs the Committee to:
Work with City Staff and the Climate Smart Glacier Country partnership to evaluate the City's energy use and propose specific projects, benchmarks and other recommendations to conserve energy in the City.  The Committee may also propose actions to enhance community resilience and prepare for the effects of climate change.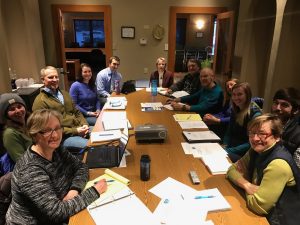 There are multiple opportunities for public involvement
All meetings are open to the public
The committee hosted a public open house to discuss the plan and invite resident suggestions on Wednesday, June 14, 2017, 6:30 – 8:30 p.m. at City Hall.
The City Council will hold a public hearing after the committee reports its recommendations later in 2017.
Public Comment Opportunity: The CAP Committee is accepting public comments! Please share your thoughts on how the city, school district and community can conserve energy and water, reduce emissions and prepare for a changing climate.  Please email your comments to Whitefish Sustainability Coordinator Rachel Sussman: RSussman@CityofWhitefish.org.
The committee is developing climate action strategies in nine areas:
Buildings and energy use
Transportation
Water sources and water conservation
Wastewater management
Waste reduction and purchasing
Future growth and hazard areas
Forests and open land
Local food sourcing
Education and behavior
Related Documents
Res 16-64 Establishing Whitefish Climate Action Plan Committee
Whitefish CAP Committee Members
May 31, 2017 meeting
May 16, 2017 meeting
CAP Minutes for May 16 – approved
May 2, 2017 meeting
CAP approved minutes for May 2 2017
April 4, 2017 meeting
CAP approved minutes for April 4
March 21, 2017 meeting
CAP aproved Minutes for March 21
February 28, 2017 meeting
February 7, 2017 meeting
CAP approved minutes for Feb 7 2017
Greenhouse Gas Inventory- Draft Overview