What does climate change mean for Glacier National Park and region?
Climate change is real. It's already happening.  And the rate of change and impacts in and around Glacier National Park will accelerate in coming decades.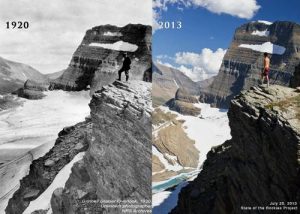 Glacier National Park is known around the world as a poster child for climate change, primarily because of the rapid melting of its mountain glaciers. Of the 150 glaciers present in 1850, only 25 glaciers larger than 25 acres remain. And scientists project that all will have melted away by 2030, creating a cascade of hydrologic impacts downstream.  But the local impacts of a warming global climate will be far broader than melting glaciers.
Trends and observations in Northwest Montana
Since 1900 the mean annual temperature for GNP and the surrounding region has increased 2.4°F.
The number of days above 90 degrees has tripled since early last century, and the summertime span in which such hot days occur has almost doubled, to include all of July and most of August.
Snowpack levels have declined since 1950 and peak spring runoff is occurring, on average, 2-4 weeks earlier.
The region has experienced increasing wildfire seasons and hotter, larger fires. Almost 25% of Glacier has burned in the past 30 years.
Climate projections
Overall precipitation may remain the same or increase slightly, with more of it coming in the winter and spring. There will be more cold-season rain and less snow, particularly in low and middle elevations.
Mean annual temperatures may increase by 6-7°F by the end of the century(2071-2100) relative to the 1970-1999 period under a scenario that assumes continued increases in greenhouse gas emissions - the "business as usual" scenario.
Summers will be hotter and drier.
More intense downpours will accompany extreme weather events, particularly in winter due to stronger and more frequent atmospheric rivers from the Pacific, also known as a "pineapple express."
By the 2080s, the annual area burned in the Northwest is expected to quadruple.
The number of smoky days is expected to double by 2050 as our intermountain valleys trap smoke from wildfires across the West.
Sources:
U.S. Geological Survey, Northern Rocky Mountain Science Center
U.S. Global Change Research Program, National Climate Assessment, 2014
Report Details Climate's Effect on Key Regions' Economies (December 2018)
Government Climate Report Warns of Worsening US Disasters (November 2018)
Glacier National Park is Losing Its Glaciers With Just 26 of 150 Left (May 2017)
Climate Change Threatens to Strip the Identity of Glacier National Park (November 2014)